HT-Computer-controlledlargesizeflexo printing slotting die cutting machine
Europe and the United States design concept:mobile unit:roller-to-roller transfer printing:independent computer touch screen PLC control;can store commonly used orders:machine fast version changing function;fast ink wash and ink-saving function:oil automatic balancing device;die-cutting frequency compensation device;optional remote maintenance; rapid equipment troubleshooting:especially for large size carton printing:can be equipped with feeder
HT-Computer-controlledlargesizeflexo printing slotting die cutting machine
Europe and the United States design concept:mobile unit:roller-to-roller transfer printing:independent computer touch screen PLC control;can store commonly used orders:machine fast version changing function;fast ink wash and ink-saving function:oil automatic balancing device;die-cutting frequency compensation device;optional remote maintenance; rapid equipment troubleshooting:especially for large size carton printing:can be equipped with feeder.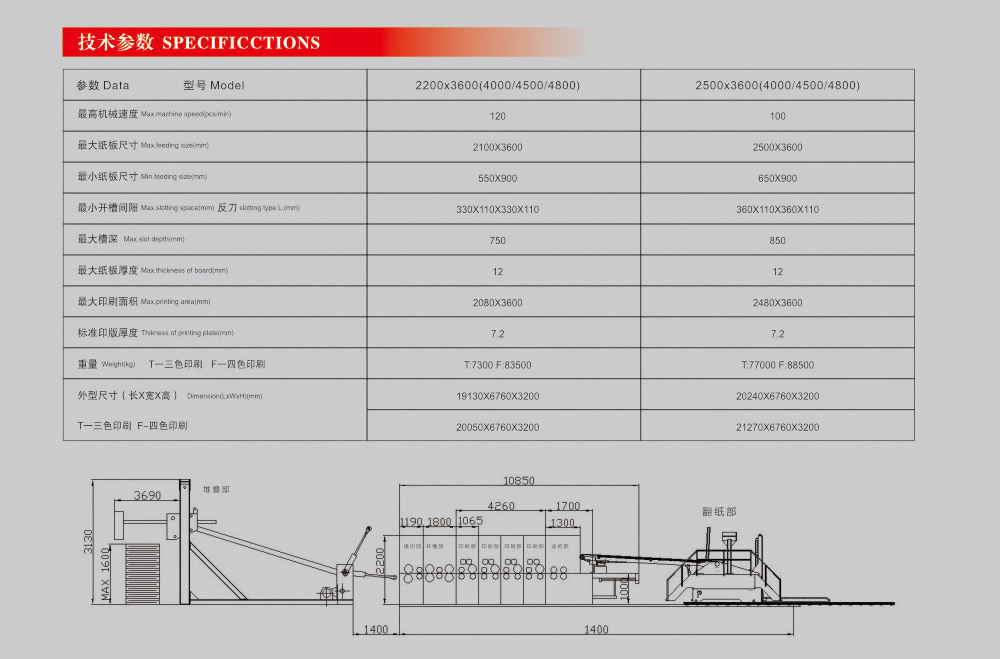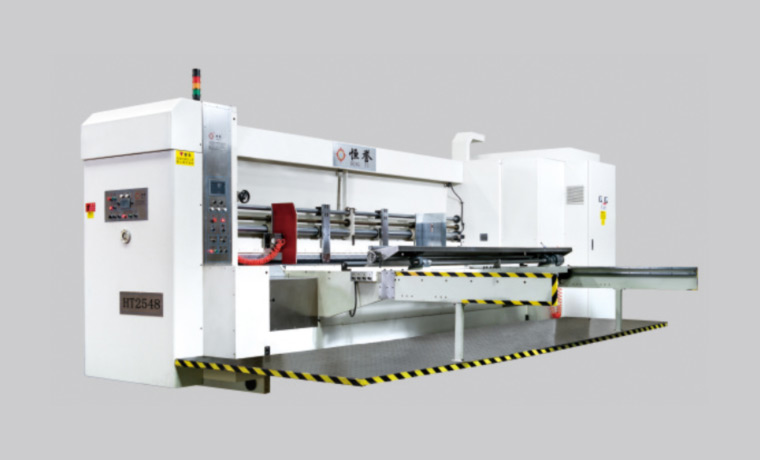 ☆Sun Automation Lead Edge Feeder with strong vacuum transfer for
precise and stable feeding.
☆ Variable frequency drive control for vacuum blower fan for increased
or decreased vacuum suction to match different sizes of paperboard.
☆Dust removal system with brush and segmented vacuum sheet cleaner.
☆Self-locked system adopted for adjusting feeding rolls gap.Motorized
and PLC control of feeder side guides.
☆Main motor is protected from starting up when units are not fully
closed and locked.
☆An internal gear adjusts the height of the carton box and prevents the
lubricating oil from spilling or leaking on to the paperboard.
☆Upper boss and lower boss are coupled to keep the two knives aligned while moving,which is helpful to prolong service life.
☆Slotting register and height of carton box are digitally controlled by motor and PLC.
☆Transversal movement of the pre -creasing rolls,creasing rolls ,and
slotting bosses'are digitally controlled by motor and PLC.
☆Motorized controls of the slotting bosses caliber.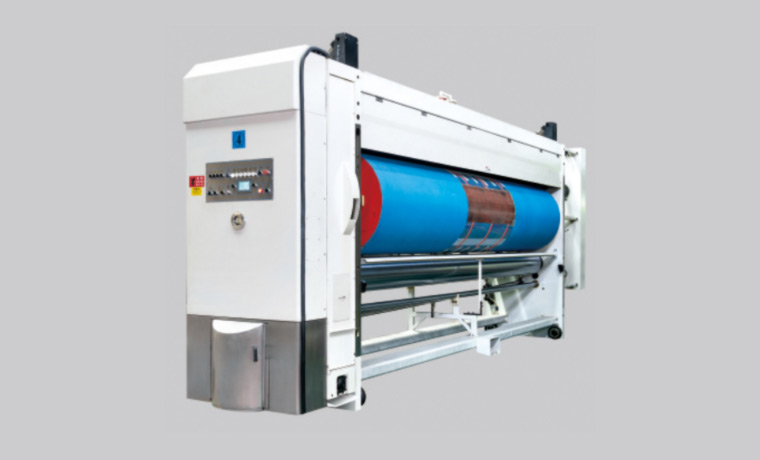 ☆Pneumatic clutch is adopted on the anilox roll to:(a)make the roll run at the same speed as the main motor when the unit is printing:(b)make the roll stop when the unit is not printing:(c)reduce the possibility of damage to the rubber roll and the anilox roll for improper operation;(d)allow units whih are not in use to be washed up while running.
☆Printing register is digitally controlled by motor and PLC.
☆Transverse register is also digitally controlled by motor and PLC(土100mm).
☆The adjustment of the gap between the embossing roller, the rubber roller and the mesh spinning roller adopts the computer and electronic digital control.
☆Cleaning Function can be automatically switched to ensure the ink
recycling thoroughly.
☆Automatic resetting after cleaning the printer.
☆Side to side oscillation of anvil drum(50mm).
☆The die drum' S transverse movement can prolong the service life of
anvil cover.
☆Die -cutting register is digitally controlled by motor and PLC.
☆The die-cut cylinder lateral register is digitally controlled by motor
and PLC ,rang about土10mm.
☆Motorized caliper adjustment between anvil roll and die drum.
☆Auto Speed Compensation system controlled by the independent.
☆Anvil Rubber roller speed compensation adopted Independent motor
for driving to control the rubber roller speed, the compensation scope
is土3mm.